Hello swimming enthusiasts, and Happy 2018!
Next week, an all-star group of female swimmers, including Dana Vollmer, Mallory Comerford, Melanie Margalis, and Breeja Larson, will kick off the 2018 TYR Pro Swim Series. The meet, held at the University of Texas from January 11-14, will be the first of six stops in the recently redesigned series. Tune in to NBC Sports throughout next week to stay up to date on the latest news from Austin!
One of the highlights of the meet will be Dana Vollmer's official return to competitive swimming after giving birth to her second child. Ryker Alexander Grant was born roughly six months ago. Her last competitive race was in April of 2017 at the Arena Pro Swim Mesa. Look out for Vollmer in the 50 fly and 50 free on Saturday, January 13!
Mallory Comerford and Melanie Margalis just tied for first in the women's high point rankings at the AT&T Winter National Championships, so it will be interesting to see how they stack up to each other in Austin!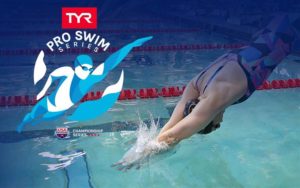 Sources
https://swimswam.com/mallory-comerford-melanie-margalis-tie-winter-nats-high-point/