Hello again, swimming enthusiasts!
While many of us are still recovering from Thursday's feast, some of the country's fastest swimmers are preparing to compete in the SCY Winter National Championships in just a few days.
The short-course meet will take place in Columbus, Ohio from November 29 to December 2, and will feature big-name female swimmers like Melanie Margalis, Mallory Comerford, Olivia Smoliga, Kelsi Worrell, and Breeja Larson.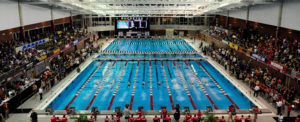 To watch the competition, you can live-stream the entire event online, or you can catch NBC's coverage on December 10 from noon-1 p.m. ET. Here are some key moments for female swimmers that you can look out for:
Watch Kelsi Worrell swim the 100 back and 100 free in addition to her usual 100 and 200 butterfly

The 50 and 100 free will be a battle between top seed Olivia Smoliga and second seed Mallory Comerford

Watch Melanie Margalis defend her top spot in the 200 IM

Margalis and Breeja Larson will compete for first in the 100 breaststroke

Comerford will swim the 100 fly for the first time in almost a year
Stay tuned for an exciting couple of days in Columbus!
Sources