Hello swimming enthusiasts, and Happy Thanksgiving Weekend!
This is the first of two posts that I will be publishing today, as there is so much to catch up on in the swimming world.
The Golden Goggle Awards, which is hosted annually to honor and celebrate the U.S. National Swim Team, took place in Los Angeles last weekend.
In case you missed it, here are some of the highlights of the night for women in swimming:
Katie Ledecky won Female Athlete of the Year for the fifth year in a row! Ledecky had a very successful year in 2017. She brought home 5 gold medals and 1 silver medal at the FINA World Championships, making her the female swimmer with the most World Championship gold medals. She also won gold at the NCAA Championships in the 200 free, 500 free, and 1650 free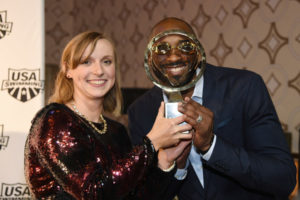 Lilly King snagged the Female Race of the Year award with her 100 breaststroke at the FINA World Championships. She beat her long-time rival Yulia Efimova, from Russia, and set a new world record with a time of 1:04.13. King was the only American to set an individual world record this year.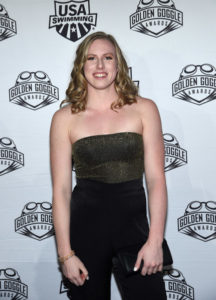 The Relay Performance of the Year of course went to the women's 4×100 medley relay at the FINA World Championships. If you are interested in learning more about this exciting race, see my previous post from August.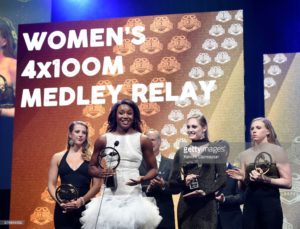 Michigan-born Mallory Comerford won the Breakout Performer of the Year award. At the NCAA Division I Women's Championships, Comerford tied with Katie Ledecky for first place in the 200 freestyle in a big upset. Then, at the FINA World Championships, Comerford took down Simone Manuel's 100 free record in her opening leg of the 4×100 freestyle relay. Way to go Comerford!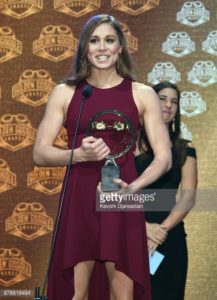 Sources